| | |
| --- | --- |
| | Snatch, He sneaks up on unsuspecting folks and steels their bubbles. His head and hands are made of doe suede. He features inset acrylic brown eyes and needle sculpted features. His real fur hair is needle felted into his head. |
| | Puncture. While Snatch holds the bubble up, Puncture uses her special bubble sword to break them. She also has inset acrylic blue eyes and needle sculpted features. Her wool roving hair is needle felted into her scalp. |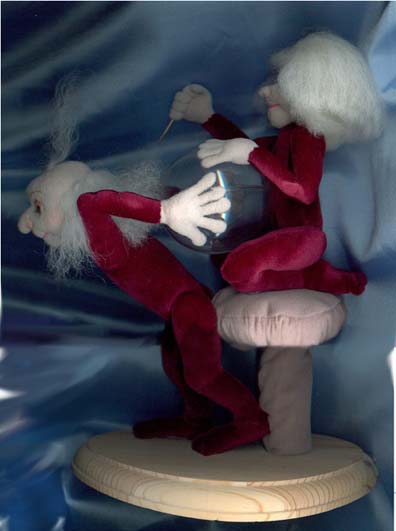 Together they make up,
The Bubble Breakers.
Their bodies are needle sculpted velour. Puncture sits upon a toad stool made of doe suede as Snatch holds up the acrylic bubble.
They stand upon a pine base. Together they are approx. 12" tall.
Original Design by Kelly Lynn Smith.
$195.00 CAD
These dolls are Sold. E-mail me to order your very own.
Shipping and insurance extra.
we accept online payment by PayPal. We will e-mail you a PayPal invoice. Simply follow the instructions in the e-mail to make a credit card or PayPal balance payment
Please be sure to E-MAIL me if you wish to adopt your own "The Bubble Breakers". As each doll is individually created you may choose the body colour. Payment must be made in advance and all sales are final.
© 2001 SLC Designs. All Rights Reserved.
Sherry Lynn Campbell