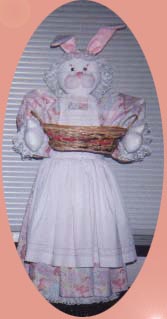 This Greeter can
be made into Mrs. Claus (I call her Mary Christmas), Santa, Angel, or a Granny!
She stands approx 3 feet tall and is dressed in the appropriate seasonal colours,
or in the case of Granny, may be dressed in the colours of your choice for
everyday use.
She looks great standing in the foyer, I have even sold them to stores to use as
displays in their windows! Or how about for those of you who have little space,
substitute Mary, Santa, or an Angel for the Christmas Tree!